VIP HVAC Service Plan
$169/yr. ($99 ea. Add'l Unit)
There's no such thing as a "good time" for your air conditioning or heating system to break down. Any interruption of either heat or air conditioning is always a major inconvenience. Keeping up with regular, annual maintenance is an essential step toward cooling and heating your home efficiently; and doing it without worrying about breakdowns and repair issues.
Ensure your air conditioning and heating systems are ready for use when they're most needed, operating safely and efficiently, with our VIP HVAC Service plan.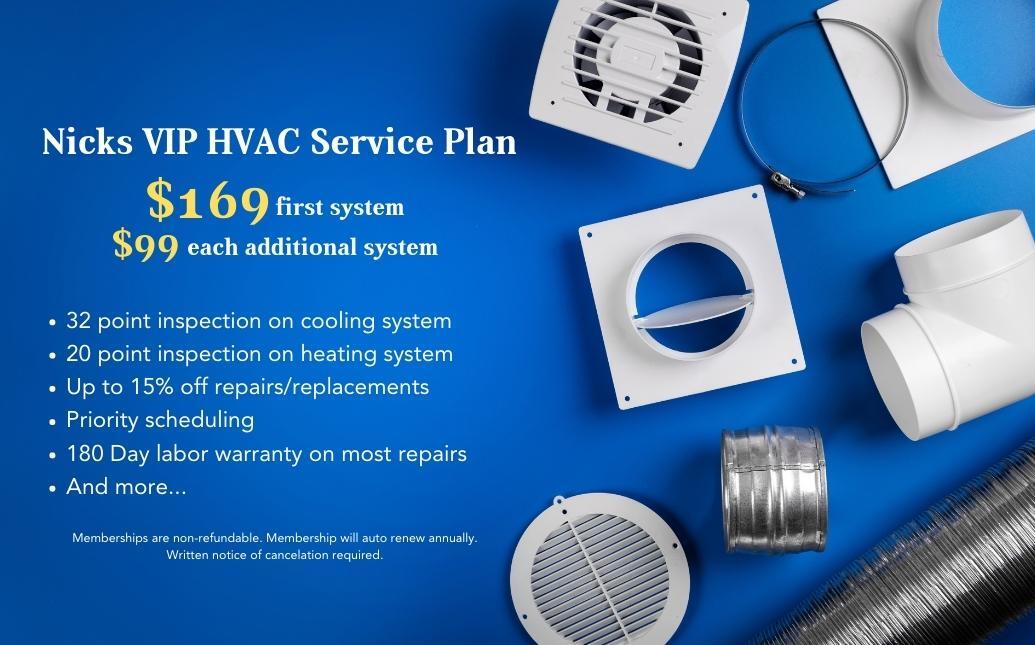 Nick's HVAC VIP Service Plan
$ 169/yr. ($99 ea. Add'l Unit)
Take a load off your mind by purchasing a Nick's HVAC VIP Service Plan and enjoy
priority booking as well as an up to 15% discount on any future service and repair needs. The VIP Service Plan includes the following services:
32 Point Inspection of Air Conditioning System: Visual inspection of all exposed components of your AC unit, including refrigerant lines, compressor motor, fans, thermostats, ductwork, vents, and air filters.
20 Point Inspection of Furnace: Visual inspection of heat exchangers, ignition and burner assemblies, venting, and gas line connections.
Up to 15% Savings on any Future Work.
Priority (Same Day) Scheduling.
180 Day Labor Warranty on Any Work Performed (vs. 90 days w/o Service Plan).
To learn more about Nick's Air Conditioning's comprehensive VIP Service Plan, call us today; or fill out the online form, and we will contact you with all you need to know about this valuable service.
*Once enrolled, costs of VIP memberships are non-refundable. Membership will auto renew annually. Written notice of cancellation is required.
Call Nick's Today. We're on the Way!